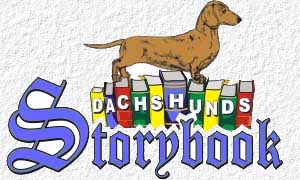 Dual Champion Sausage Stables Storybook SS
"Stuart"
"Stuart" was bred in Oregon and came home to live with me when he was nine weeks old. He continues to be an amazingly outgoing and friendly boy, who is a true ambassador for the breed. He has since sired a beautiful litter of puppies with my "Nona". Please see "Avery's" page for the progress of Stuart's son.
(Click on any of the photos below to see the pictures enlarged.)
Success In the Ring
On April 3rd, 2004 at the Northern California Specialty Show in Dixon, California, Stuart went Winners Dog for a 4 point Major to complete his Conformation Championship. Since he became a Field Champion just one week earlier, (check out his Field Trial info) this beautiful young dog is now a Dual Champion at the age of 18 months! We are very proud.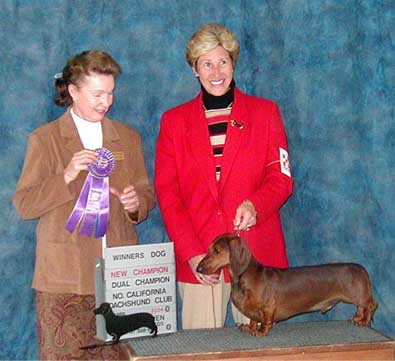 Here are win photos of Stuart while he worked towards his bench championship.
Success in the Field
Stuart won the OAAD (Open Any Age Dog Stake) at the National Dachshund Specialty on March 5th, 2004 in Riverside, California. Click here to read about his accomplishments on the American Kennel Club website.
Three weeks later, on March 27, 2004 he did it again! This time he not only won the OAAD Stake, but he went on to win ABSOLUTE, which is the equivalent of winning Best In Show at a Conformation event. He earned and received his Field Champion title that day.
| | |
| --- | --- |
| | Here's Stuart after his first time in the field. He was awarded "NBQ" which stands for "Next Best Qualifier". That means, if there was a fifth place ribbon, this dog would have gotten it. So Stuart is off to a good start. The following month at his next Field Trial he earned his first points by getting a Fourth place ribbon! |