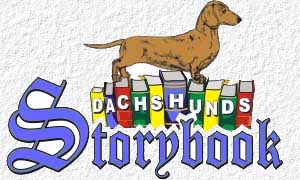 Dual Champion Cherevee Storybook Stella SS
"Stella"
I am lucky. My foundation bitch is also my good friend. Stella is a calm, kind, and gentle girl who is equally content curled by my side on the couch, hurtling through the field in search of rabbits, or strutting her stuff in the conformation ring.
I was introduced to Cheryl and Steve Shultz of Cherevee Dachshunds by Judy Anderson, an extremely well known and knowledgeable dachshund breeder in Southern California. The Shultz's were interested in finding a show home for Stella, and I was fortunate to be in the right place at the right time. I continue to be grateful for their ongoing willingness to guide me.
Here are photos of Stella working toward her bench Championship which she received in May of 2003. Click on any of the photos to see larger versions.
| | |
| --- | --- |
| | Storybook Stella is now a Dual Champion! At 2 years and five months of age, she finished her Field Championship by winning the OAAB Stake from a field of 8 females. The very next day, her first as a Field Champion, she won the Field Champion Stake over 12 seasoned champions! Here is a photo of Stella with her very proud owner! |
| | |
| --- | --- |
| | This photo was taken in November of 2002 when Stella was beginning to "catch on". She took 4th place out of a field of 16. |
| | |
| --- | --- |
| | Respected Field Trial Judges Carl and Holly Browning |